Bloomberg BusinessWeek recently published its annual ranking of the top 50 U.S. companies. From the article:
The Bloomberg Businessweek 50 ranks companies on how well they've done and how well analysts expect them to do. Half of the ranking is based on past performance: their stocks' risk-adjusted returns over one and five years. The other half is based on outlook: analysts' recommendations and forecasts for earnings growth. Companies at the top of the list have both strong track records and high expectations from Wall Street for growth ahead.
Here is the chart showing the BBW50 for 2013:
Click to enlarge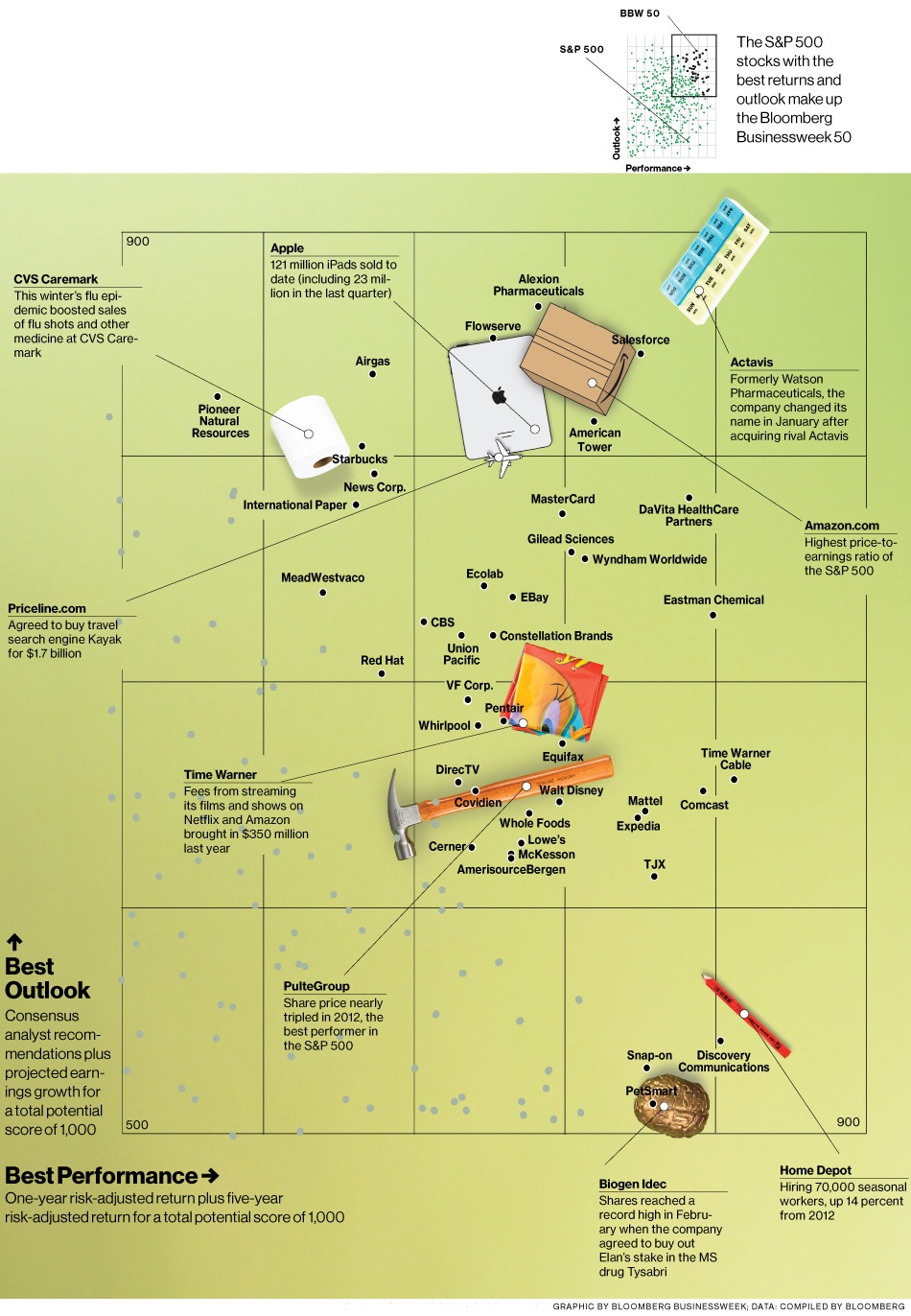 Source: Breaking Down the BBW50, Bloomberg BusinessWeek
A cool interactive chart can be found here.
The top 3 firms in terms of revenues are Apple(APPL), McKesson(MCK) and CVS CareMark(CVS) in descending order. However the top 3 firms based on market caps are Apple(APPL), Amazon(AMZN) and Comcase(CMCSA). In terms of Earnings Per Share the top 3 firms are Apple(APPL), Priceline.com(PCLN) and Mastercard(MA).
Five interesting names investors can consider for further research are:
1.Company: Airgas Inc (ARG)
Current Dividend Yield: 1.66%
Sector: Chemical Manufacturing
2.Company: Mastercard(MA)
Current Dividend Yield: 0.46%
Sector: Consumer Financial Services
3.Company: McKesson(MCK)
Current Dividend Yield: 0.78%
Sector: Biotechnology & Drugs
4.Company: Union Pacific Corp (UNP)
Current Dividend Yield: 2.06%
Sector: Railroads
5.Company:Ecolab Inc (ECL)
Current Dividend Yield: 1.24%
Sector: Personal & Household Products
Note: Dividend yields noted are as of Feb 22, 2013
Disclosure: No Positions