The pharmaceutical in industry is a multi-billion dollar industry especially in developed countries where drug prices are very high and consumers are able to afford them. For drug companies, the actual manufacturing of the drugs is just one portion of the overall costs of sale prices of the drugs. Marketing plays a huge role accounting for as much as 20% in some countries. For example, drug companies spend heavily on advertising in the US market where they are allowed to market directly to consumers via TV, radio, magazines, etc. So even though the majority consumers have no knowledge about the product being marketed to them the industry's logic is here that they will ask their doctors to prescribe the particular drug. However in many countries direct marketing to consumers is illegal. These countries believe that most consumers are not medical experts and a drug is not a cheap consumer product such as a 99 cents burger that everyone can buy. In addition, direct advertising to consumers may induce them to buy them even though they may not need it medically.
Here is an interesting chart I came across recently on the market share of top drug companies:
Click to enlarge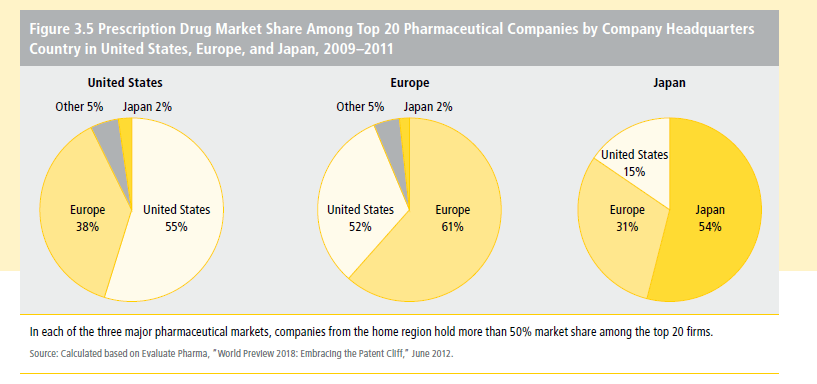 Source: DHL Global Connectedness Index (GCI), DHL
Via FT beyondbrics blog
Companies from the home region generate more than 50% of their sales from home regions. So for example, U.S. firms such as Pfizer Inc. (PFE), Merck & Co. Inc. (MRK) and Eli Lilly and Company (LLY)  depend on the domestic market for more than half of the annual sales. It is interesting to note that though many of the top pharma companies are multi-nationals their home market is still their key market.
You may also want to check out the Top 25 pharma companies here.
Disclosure: No Positions