Brazil has been the hot emerging market destination until recently. The country's economy and stocks performed extremely well due to the commodity market boom before the global financial crisis. However global investors' attraction towards Brazil has waned recently despite many positive factors favorable to the economy including the hosting of Olympic Games in 2016 and the World Cup in 2014. In terms of equity market returns, compared to the S&P 500's rise of 15.0% year-to-date (YTD), the Brazilian benchmark Bovespa index has gained only 4.3%.
The Mexican economy stabilized and expanded under the leadership of outgoing President Felipe Calderon despite the bloody violence due to drug cartels. Mexico's IPC index is up about 11.0% YTD and the index may go up higher as a result of the economic reforms promised by the incoming President Enrique Pena Nieto.
Over long term also Mexican stocks have yielded higher returns than Brazilian stocks. This may come as a surprise to many investors since the Mexican economy is highly dependent on the U.S. economy which is experiencing lackluster growth in recent years. The superior performance of Mexico relative to Brazil is more interesting considering the limited natural resources available in Mexico relative to Brazil and the ongoing drug violence.
Performance comparison of IPC Index and Bovespa over 5 years:
Click to enlarge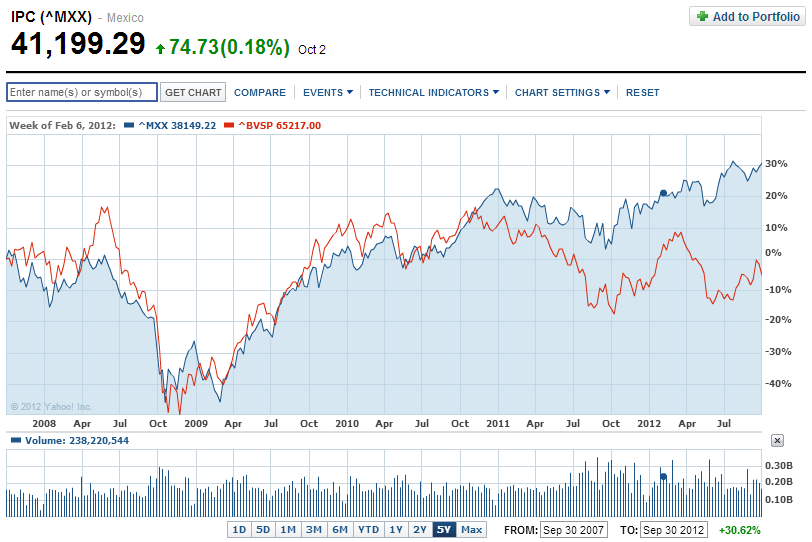 In the past 5 years, the IPC has returned 30.62% while  Bovespa has lost about 5%.
Performance comparison of IPC Index and Bovespa from 2001 to YTD: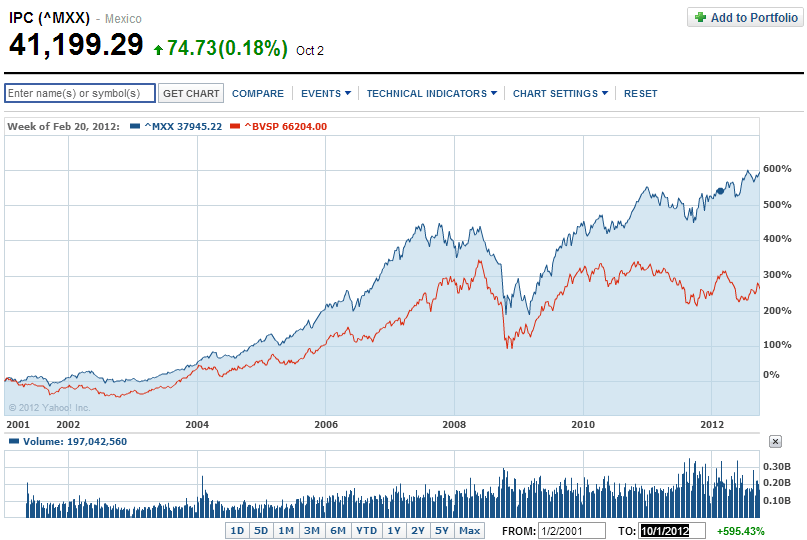 Since 2001, Mexico's IPC Index has shot up nearly six-fold. During the same period Bovespa went up only 260%. The U.S. market lagged both Mexico and Brazil by a significant margin. The S&P 500 rose just 11% in the same time.
Related ETFs:
iShares MSCI Brazil Index (EWZ)
iShares MSCI Mexico Investable Market Index (EWW)
SPDR S&P 500 ETF (SPY)
Disclosure: No Positions