The world's total population was about 6.9 billion in 2011 out of which 1.3 billion people live in China. So about one in five people in the world are Chinese. But China's population has been declining since the mid 1970s primarily due to the country's One-Child Policy. According to one estimate, by 2050 India is projected to overtake China as the world's most populous country.
Click to enlarge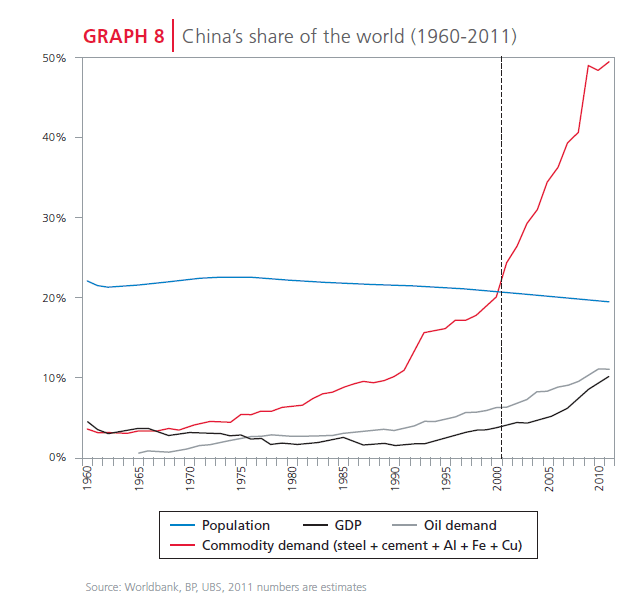 Source:  Quarterly Commentary 2, Allan Gray Investment Management, South Africa
While China's population has been declining China's share of the global GDP has been rising steadily since the early 1990s. Accordingly China's share of global consumption of oil has also been increasing. Compared to oil China's consumption of other commodities is significantly higher. Specifically as shown in the above chart, China consumes a large portion of the global supply of steel, cement, aluminium, iron ore and copper. China accounts for about 40 to 50% of the global supply of these commodities. Much of these commodities is used in the construction of the modern infrastructure. About half of China's GDP is spent on fixed capital formation. Since infrastructure development cannot go on forever, the Chinese demand for the five commodities may have reached a peak already. In fact, China's demand for the commodities may even decline from current high levels. Hence investors betting on continued rise in global commodity prices may want to be cautious.
Related ETFs:
iShares GSCI Commodity-Indexed Trust (GSG)
United States Commodity Index Fund (USCI)
PowerShares DB Commodity Index Tracking Fund (DBC)
iShares FTSE/Xinhua China 25 Index Fund (FXI)
EGShares China Infrastructure Index Fund (CHXX)
Disclosure: No Positions