The graph below shows the external debt of the G7 countries:
Click to enlarge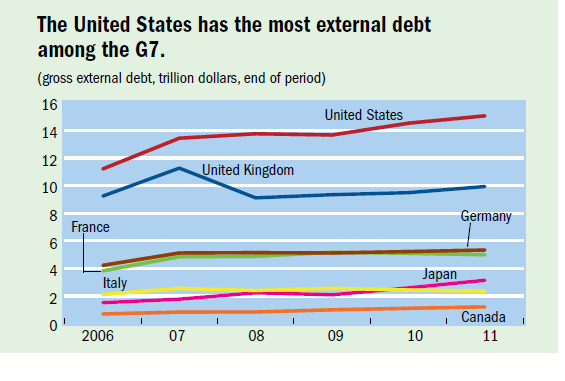 Source: Finance and Development, June 2012, IMF
From the G7 Borrowing from Abroad article in the IMF magazine:
The United States has the most external debt of the world's richest countries (the Group of Seven major industrial countries, or G7), but as a share of GDP, the United Kingdom tops the list. The gross external debt (that held by foreigners) of the United Kingdom exceeded four times its GDP in 2011, mainly because of its role as an active financial center.France, Germany, and Italy all had ratios over 100 percent.The U.S. external debt—$15 trillion in 2011—was equal to its GDP. That number has risen significantly over the past five years (from $11 trillion in 2006), in part to finance a high fiscal deficit.
U.S. debt as of 8/9/2012 is $15,915,814,457,919.46 according to U.S. Department of Treasury, Bureau of Public Debt. The Gross External Debt was 5264.0 millions (or) $5.2 Trillion at the end of April this year. Out of this amount, China and Japan are the largest foreign holders of US debt of over $1.0 Trillion each.