Crude oil prices have risen in the past few months on fears of war on Iran, global supply disruptions and a multitude of other factors. From $96.0 a barrel last month oil rose over $110 recently but closed down $2.24 at $106.60 for April delivery on the New York Mercantile Exchange.
Despite the rise in oil prices equity markets across the world have soared since late last year.The S&P 500 is up 8.9% YTD. Germany's DAX has shot up over 17% YTD. Many of the emerging markets are also up by digit digit percentages so far this year.
Based on conventional wisdom one would assume that stock prices would fall when the price of oil increases since higher oil prices translates into higher gasoline prices and other costs which may drive consumers to reduce consumption. However that is not true. The relationship between oil prices and stock markets is actually positive as shown in the chart below. Hence stocks markets will not fall heavily due to higher oil prices alone.
Chart showing the relationship between oil prices and S&P 500: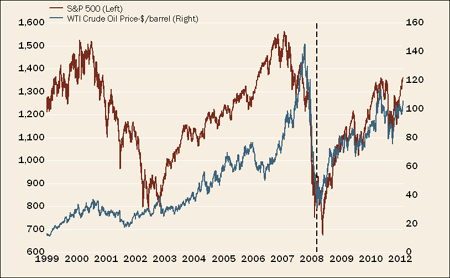 Source: Black: Swans and Crude, Liz Ann Sonders, Charles Schwab & Co., Inc.
Related ETFs;
iShares MSCI Emerging Markets Indx (EEM)
Vanguard Emerging Markets ETF (VWO)
SPDR S&P 500 ETF (SPY)
United States Oil Fund (USO)
Disclosure: No Positions