India is the second largest populous country with a population of over 1.1 billion. The economy grew at a robust pace up until recently after the India opened up its economy and implemented economic reforms. In 2010, the GDP was estimated to be $4.06 Trillion based on Purchasing Power Parity (PPP). The growing economy has led to higher trade with other countries as India competes with China to become a leading manufacturing base.
The following chart shows the Top Trade Partners of India:
Click to enlarge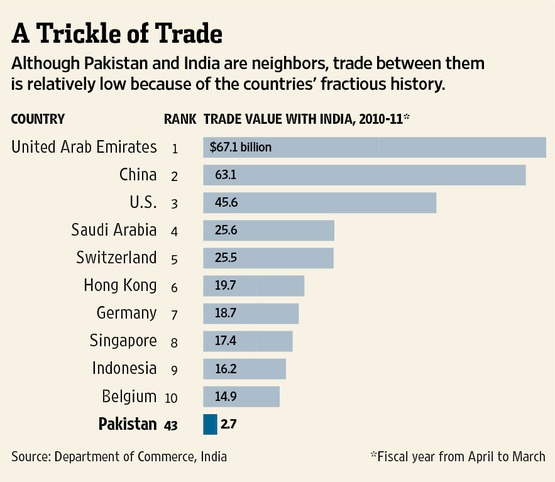 Source: Pakistan to Boost Trade With India ,The Wall Street Journal
Due to high imports of oil and natural gas from the Middle East, UAE and Saudi Arabia appear in this list. Despite strong trade relationship with the U.S. due to off-shoring of IT work and call center businesses, the U.S. ranks as the third as the third trade partner. It is interesting to note that China is a major partner of India.  The Indian scenario is similar to Brazil where growth in trade is higher between Brazil and China than with Brazil and the U.S.
Related ETFs;
WisdomTree India Earnings (EPI)
PowerShares India (PIN)
iShares S&P India Nifty 50 (INDY)
EGShares India Infrastructure ETF (INXX)
Disclosure: No Positions