Natural Gas is increasingly becoming an important fuel in meeting the global energy needs. In this post, let us take a quick look at the largest natural gas fields in the world.
Eastern Europe and Eurasia have the largest known natural gas resources, which are concentrated in the countries of the former Soviet Union. The Middle East also holds large volumes of natural gas due to the presence of oil. More than half of the world's proven reserves are concentrated in Russia, Iran and Qatar in large conventional fields.
The following chart shows the World's Ten Largest Known Natural Gas fields:
Click to enlarge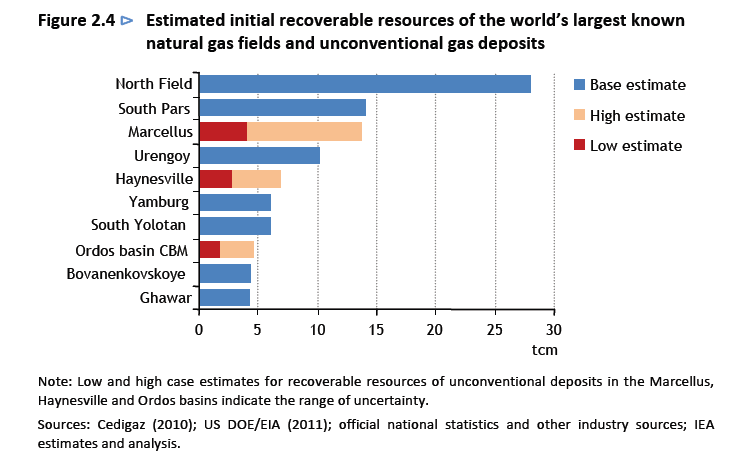 Based on assumptions of recovery and extent of deposits, Marcellus and Haynesville, two of the largest identified fields in the United States, rank respectively as the the third and fifth-largest fields gas fields in the world.
The world's other largest fields are located in Qatar (North Field), Iran (South Pars), Russia (Urengoy, Yamburg and Bovanenkovskoye), China (Ordos basin), Turkmenistan (South Yolotan) and Saudi Arabia (Ghawar, which is also the world's largest oil field).
Source: Are we entering a  Golden Age of Gas ?, Special Report, IEA
Update:
From Top Picks for Natural Gas Plays in Canadian Business:
Natural gas prices have a long history of dramatic rises and falls, but the last time they dropped, in 2008, it was because of a revolutionary change in the industry. Advances in drilling technology made it possible to extract gas from solid rock formations such as shale, vastly increasing the size of the reserves that could be economically recovered. Eric Nuttall, manager of Toronto's Sprott Asset Management's Energy Fund, says that eight years ago the average natural gas well would initially produce 250,000 cubic feet of gas per day. That number is over a million cubic feet today. The go-big-or-go-home economics of shale gas mean North American supply is far outstripping demand, even though that is increasing, too, as users switch from more expensive (oil), more polluting (coal) or more dangerous (nuclear) energy sources.
Related ETF:
The United States Natural Gas ETF (UNG)
Disclosure: No Positions