Volatile equity markets and divergent economic growth between the developed and emerging markets have driven trading in Global and American Depository Receipts to new records, according to a mid-year review report by BNY Mellon Depository Receipts. During the first half of this year, 80.5 billion DRs valued at an all-time high of $1.91 trillion, traded hands. The universe of DR programs available to investors has also expanded to 3,364 programs from 77 countries. NASDAQ and the NYSE remain the largest markets for DR trading.
The 10 most actively-traded DRs by value are listed below:
Click to enlarge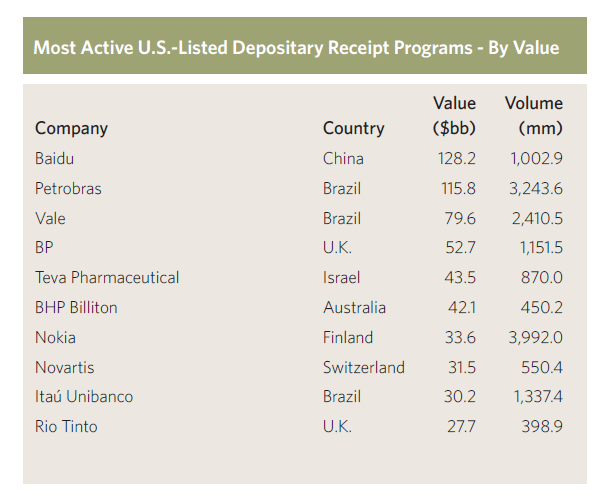 China's Baidu(BIDU) tops the ranking followed by Brazil's Petrobras(PBR), Vale(VALE), UK's BP Plc (BP) and Israel's Teva Pharmaceuticals (TEVA).
The 10 most active OTC-traded DRs by value are listed below:
Click to enlarge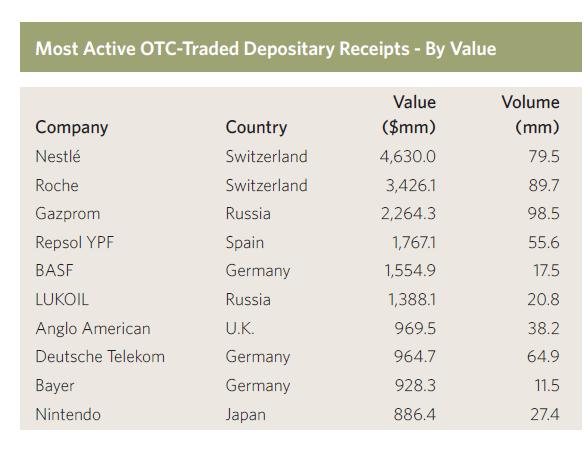 Source: The Depositary Receipt Markets, 2011 Mid-Year Review, BNY Mellon
Despite the ongoing firestorm in the European equity markets, Switzerland-based Nestle SA(NSRGY) is holding up very well. The stock closed at $61.71 today relative to its 52-week high of $65.53. The other top four actively-traded ADRs include Roche (RHHBY), Gazprom(OGZPY), Repsol (REPYY) and German chemical giant BASF (BASFY).
Disclosure: Long ITUB, PBR