The chart below shows the year-to-date(YTD) performance of the S&P 500 and the major indices of most global markets:
Click to enlarge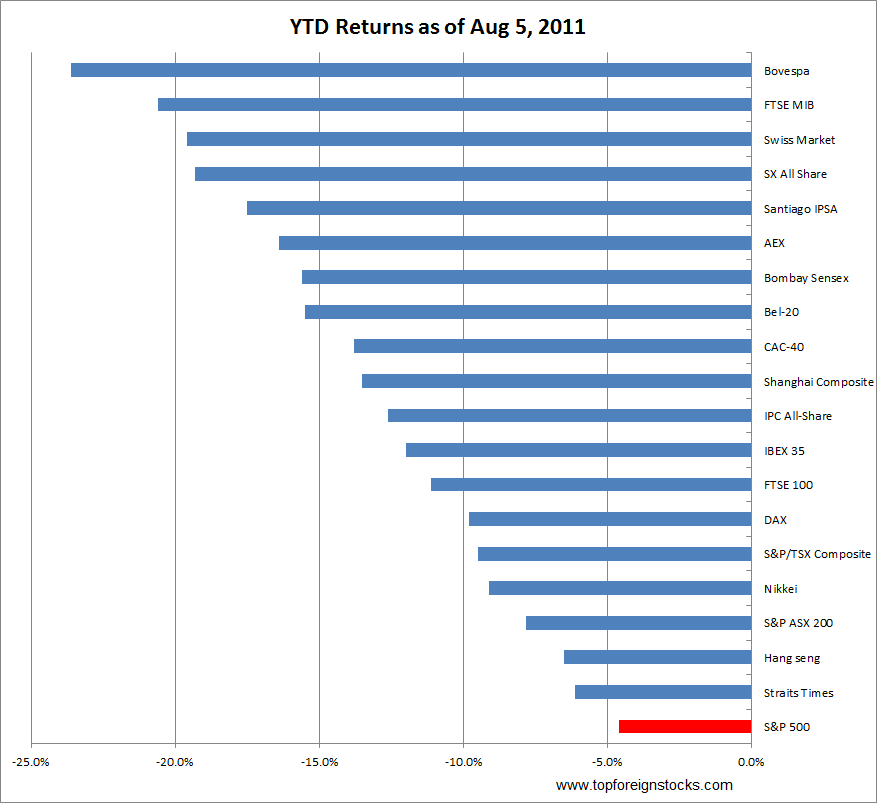 Some observations:
With a loss of 4.6% YTD for the S&P 500, U.S. stocks are relatively performing better than the stocks of other developed economies.
Equities in Italy and Spain have entered the bear market territory as the FTSE MIB and Bovespa indices are off by more than 20% YTD.
Germany, home of the largest and strongest economy in Europe, is down by 9.8% as noted by the DAX index compared to double digit losses of the British, French, Spanish, Swiss indices.
In addition to Brazil, the emerging countries of India(Bombay Sensex) and China(Shanghai Composite) are also down more than 10% YTD.
The commodity-based developed economies of Canada (S&P/TSX Composite) and Australia (S&P ASX 200) are off more than the U.S. but still lower than the crisis-ridden European countries.
Related ETFs:
iShares MSCI Canada Index (EWC)
iShares MSCI Australia Index (EWA)
SPDR S&P 500 ETF (SPY)
iShares MSCI Emerging Markets Indx (EEM)
iShares S&P India Nifty 50 (INDY)
iShares FTSE/Xinhua China 25 Index Fund (FXI)
iShares MSCI Brazil Index (EWZ)
Disclosure: No Positions