Denmark is the one of the world leaders in producing electricity from wind. About 20% of the electricity produced in Denmark comes from wind power.Since the 1980s the Danish government provided various incentives for the growth of this industry with the goal of reducing fossil fuel imports. As a results of these efforts, today Denmark is not only a world leader in wind power generation but also is a major exporter of wind power technology and expertise to other countries.
In recent years, India and China have embarked on a mission to reduce their  fossil fuel imports and encourage the production of electricity form renewable energy sources. Today India has the fifth-largest installed wind capacity in the world with more than three-times the installed capacity of Denmark. However China is much ahead of India in this industry as well as shown in the chart below: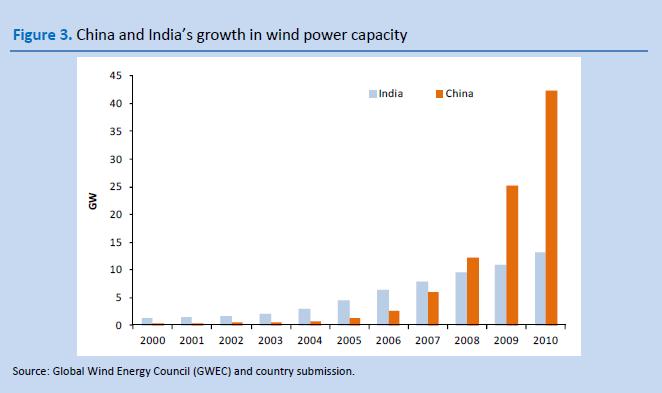 China started installing wind power capacity in 2005. Now it is the largest domestic wind market achieving three times the installed capacity of India or ten times the capacity of Denmark in just five years.As in Denmark and India, China created strong incentives and supporting policies for private investment leading to the strong growth of this industry. The 12th Five‐Year Plan envisions a further increase of the 2020 target of wind power capacity to above 100 GW.
Source: Clean Energy Progress Report, IEA
Ten large global wind power companies are listed below:
1.Company:Vestas(VWDRY)
Country: Denmark
Current Stock Price: $12.93
2.Company:GE Energy (GE)
Country: USA
Current Stock Price: $20.19
3.Company:Gamesa (GCTAY)
Country: Spain
Current Stock Price: $2.10
4.Company: Enercon
Country: Germany
Current Stock Price: N/A
5.Company:Suzlon
Country: India
Current Stock Price: N/A
6.Company:Siemens (SI)
Country: Germany
Current Stock Price: $138.50
7.Company:Acciona
Country: Spain
Current Stock Price: N/A
8.Company:Goldwind
Country: China
Current Stock Price: N/A
9.Company:Nordex (NRDXF)
Country: Germany
Current Stock Price: $11.65
10.Company:Sinovel
Country: China
Current Stock Price: N/A
Disclosure: No positions