College tuition rates are increasing year-after-year in the U.S. making more students carry heavier debt-loads by the time they graduate. Last year for the first time, student-loan debt surpassed credit-card debt.From an article in The Wall Street Journal:
Consumers now owe more on their student loans than their credit cards.

Americans owe some $826.5 billion in revolving credit, according to June 2010 figures from the Federal Reserve. (Most of revolving credit is credit-card debt.) Student loans outstanding today both federal and private total some $829.785 billion, according to Mark Kantrowitz, publisher of FinAid.org and FastWeb.com.

The growth in education debt outstanding is like cooking a lobster, Mr. Kantrowitz says. "The increase in total student debt occurs slowly but steadily, so by the time you notice that the water is boiling, you are already cooked.

By his math, there is $605.6 billion in federal student loans outstanding and $167.8 billion in private student loans outstanding. He estimates that $300 billion in federal student loan debts have been incurred in the last four years.
The chart below shows the consistent pace at which college tuition is increasing since 1980: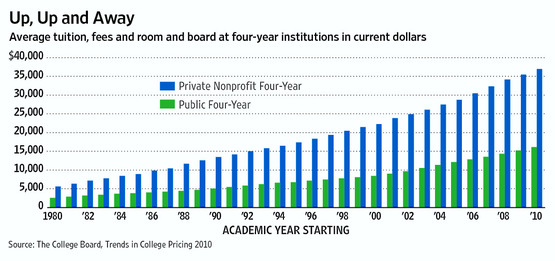 Source: The Wall Street Journal
It must be noted that most of the U.S. schools offer mediocre education despite charging high tuition and accordingly churn out average or functionally illiterate students. One question that many in the main stream media fail to ask is why college college tuition is rising year-after-year.
I believe one of the reasons for the rising costs of tuition is the liberal granting of student loans by Uncle Sam and private lenders. When the U.S. government offers loans easily it provides an incentive for students to take on huge debts in the pursuit of gaining higher education and more importantly it creates a strong incentive for school boards to raise tuition and other fees. As students are hit with higher fees college presidents, professors and instructors give themselves high salaries and raises year after year. It is not unheard of for some top college presidents to make more than a million dollars in compensation similar to executives in private sector. In addition, average tenured-professors make in excess of $100K in pay and benefits for a few hours of teaching each week.
Whenever Uncle Sam gets involved in an industry in the false belief that everyone should be able to afford something it leads to a bubble. For example, the U.S. real estate bubble became so huge and ultimately crashed due in part by the easy approval of home loans which were in turn backed by US-sponsored agencies such as Fannie Mae and Freddie Mac. Unlike other countries, the U.S. government believes that owing a home is a right and not a privilege. The same thinking is applied to higher education as well leading to inflation of tuition.If lending standards are tightened and loans made more difficult to obtain for students who cannot repay then the runaway gray-train tor those in the college business can be stopped and tuition will return to fair and affordable levels.Until that happens college tuition will continue to soar irrespective of unemployment rates, recession and other factors.
Also checkout:
On the Continuous Rise of College Tuition in the U.S., April 19, 2015 (TFS)
Where Public College Tuition Is Growing the Fastest, Bloomberg, Nov 2015
Three Reasons for Those Hefty College Tuition Bills, NY Times, Dec 19, 2015
 US College Tuition Costs in 2014:  
Click to enlarge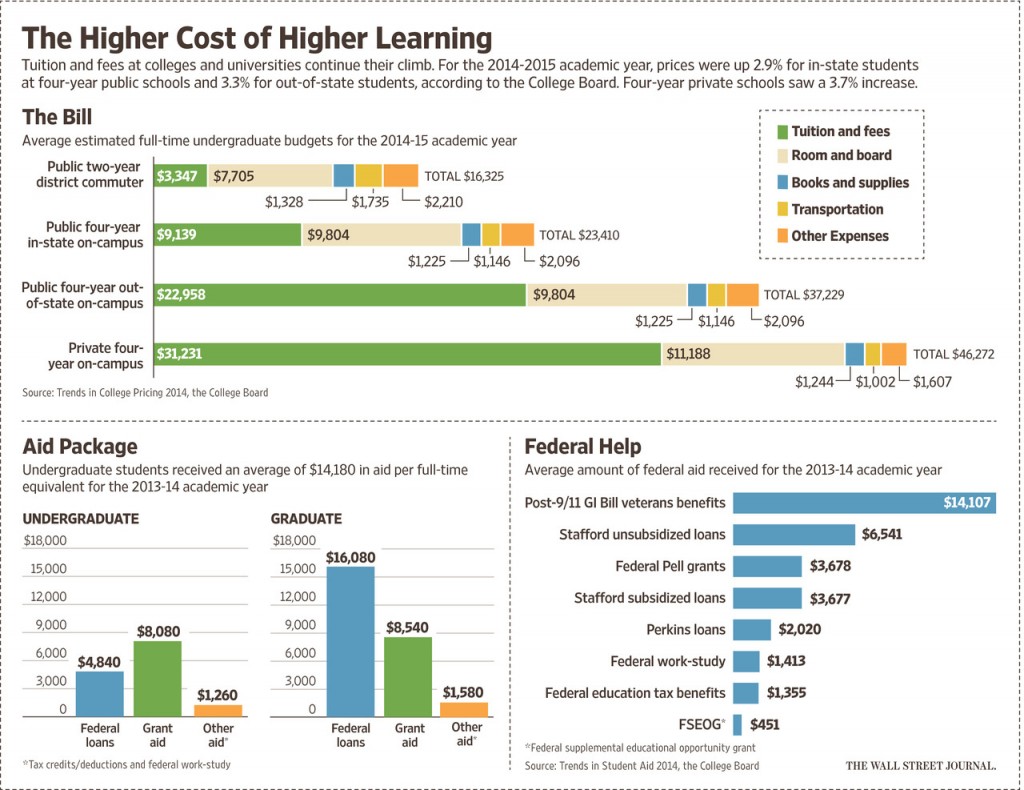 Source: Questions Families Need to Ask About Paying for College, WSJ, Sept 21, 2015
6. College tuition rising at slowest rate ever, MarketWatch, Feb 19, 2016