CMA, the London-based world's leading credit default swap pricing service has published the 'Sovereign Debt Credit Risk Report' for Q4 2010. Sovereign debt investors will find this report extremely valuable.
The top 10 most risky countries are listed below:
Click to enlarge

Greece continues be the most risky country in terms of defaulting on its obligations. Ireland and Portugal are among the top five.
The top 10 least risky countries are listed below: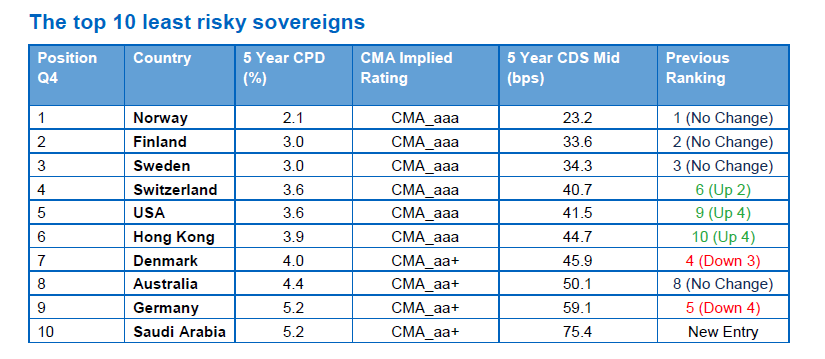 Source: CMA
Norway tops this ranking followed by Finland and Sweden. Norway is a creditor country. It is interesting to note that the U.S. takes the fifth place in this list. From an investment standpoint it is a wise idea to invest in creditor countries such as the Scandinavian countries. China ranks 14th among the least risky countries. The U.S. is the world's largest debtor country. China holds about $906.0 billion of U.S. treasury securities as of October, 2010 making it the largest creditor to the U.S.