The demand for coal is rising in Asia especially in China and India. As a result, developed countries that have an abundance of coal deposits are increasing their exports to Asia. In addition, mining companies in Australia, U.S. and others are exploring the possibility of opening new mines to take advantage of the growing demand.
The following graphic illustrates the booming business in coal:
Click to enlarge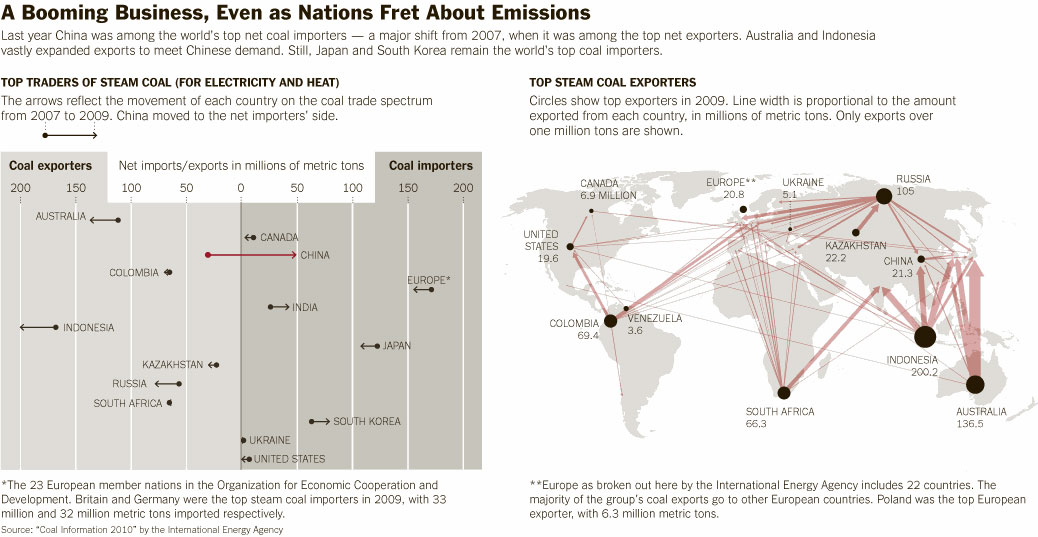 Source: The New York Times
From a recent article titled "Nations That Debate Coal Use Export It to Feed China's Need" in the Times:
"Vic Svec, senior vice president of Peabody Energy, the world's largest private coal company, said it was "planning to send larger and larger amounts of coal" to China.
"Coal is the fastest-growing fuel in the world and will continue to be largely driven by the enormous appetite for energy in Asia," he said.
The conflict between environmental and trade concerns is gaining momentum in the United States and Canada as well as Australia.
Last year, the United States exported only 2,714 tons of coal to China, according to the United States Energy Information Administration. Yet that figure soared to 2.9 million tons in the first six months of this year alone — huge growth, though still a minuscule fraction of China's coal imports.
New mines are planned to expand the market further."
A few other key points noted in the article are:
Seaborne trade in thermal coal which is used in power generation rose to about 690 million tons this year, up from 385 million in 2001.
The price of coal rose to $60 from $40 a ton five years ago to a high of $200 in 2008.
For the first time China became a net importer of coal last year.
Since China's factories are located on the coast but its coal mines are located inland, it is actually cheaper to ship coal from North America, Australia or even South America to Chinese factories.
Chinese demand for coal has been a lifesaver for Colombia  and in Australian the mining industry is experiencing a big boon.
Some of the major U.S. coal producing companies are: Peabody Energy Corp. (BTU), Consol Energy Inc. (CNX),  Alpha Natural Resources Inc. (ANR), Arch Coal Inc. (ACI), Walter Energy (WLT) and Massey Energy Co. (MEE). Peabody energy is the world's largest private coal producer. Two of the coal ETFs are Market Vectors-Coal ETF (KOL) and PowerShares Global Coal Portfolio ETF (PKOL).