Credit-card debt in the U.S. recorded the twenty-fourth straight monthly decline in August according to the Federal Reserve. Revolving credit-card debt fell $5.0 billion 0r 7.2% in August. As US consumers continue the process of balance-sheet de-leveraging, the outstanding credit-debt will decline further.
However while the outstanding credit-card debt is declining in the U.S, it is surging in emerging markets such as Brazil and China. From a Wall Street Journal article :
"While consumers throughout the developed world struggle to shed debt, their counterparts in China and Brazil are piling it on.
In 2009, the year the global recession hit bottom, the aggregate credit-card balances of Chinese consumers rose 17.1% even as those of U.S. consumers fell 8.7%, according to a study by financial consultancy Lafferty Group. Brazilians increased their balances by 28.9%, part of a 9.2% rise throughout Latin America."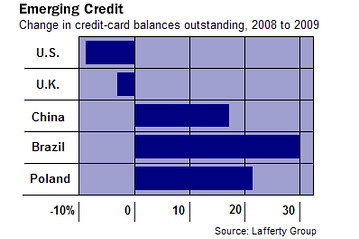 The article further noted that  "As of 2009, China, Brazil, India and Russia had a total combined credit-card balance of $143 billion, still a far cry from the U.S.'s $849 billion but getting into the same league."
The five fast-growing credit-card issuers in the world are China's ICBC, China Merchants Bank and Brazil's Itau Unibanco(ITUB), Banco Bradesco(BBD) and Banco do Brasil(BDORY). The highest ranking issuer among the top five is ICBC of China which has 54 million cards in circulation. On the other hand, the number of cards issued by some of the top banks in the developed world such as HSBC(HBC), Bank of America (BAC) and JPMorgan Chase (JPM) fell drastically last year. Bank of America saw a decline of 29% to 54 million cards.