I have written earlier about some of the reasons for investing in foreign stocks. Despite the synchronized crash of both foreign and U.S. stocks in the recent bear market, investing in foreign stocks still offer diversification benefits.
The chart below shows the correlation between U.S. and foreign stocks during the rolling 12-month periods from December 1970 to August 2009: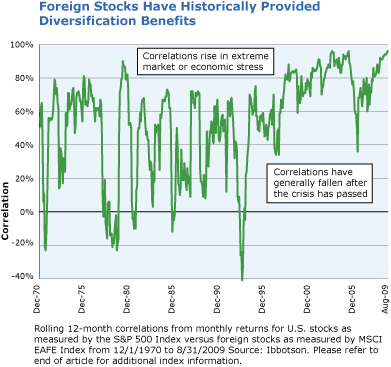 Source: Fidelity Investments
The chart shows that correlations increased and declined over time. Global stocks (including U.S. stocks) tended to fall during periods of extreme market or economic stress (i.e. correlations moved up), just as they did during the recent global financial crisis. However historically, U.S. and foreign returns generally diverged after the crisis passed (i.e. correlations fell down).
So the fact that foreign markets also fell in tandem with US stocks during the recent crisis is not unusual. Moving forward, the correlations between them should decline based on historical trends. Hence adding foreign equities to one's portfolio should continue to provide diversification and reduce volatility.
Some related ETFs:
iShares MSCI EAFE Index Fund  (EFA)
iShares MSCI ACWI ex US Index Fund  (ACWX)
iShares MSCI Emerging Markets Index Fund  (EEM)
Vanguard FTSE All-World ex-US (VEU)
Vanguard European ETF (VGK)