China has been the preferred destination for emerging market investors for many years now.However this year Chinese equities have not performed well. The Shanghai Composite Index fell 27% in the first six months. Despite Chinese stocks rallying in recent weeks, the index is still down 19.5% year-to-date. In terms of performance over a ten year period many other countries have easily beat China.
The chart below shows the performance of MSCI Russia vs. MSCI China over 10 years: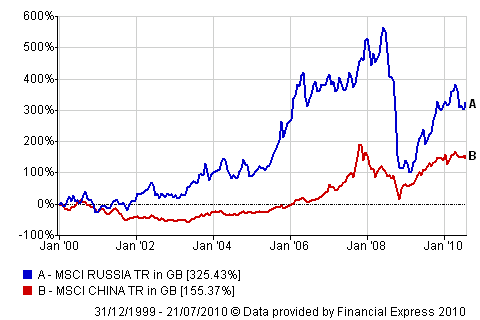 Source: Trustnet
Note: The Total Return shown is in British Pounds
Hence Russian equities have performed better than Chinese equities over a decade.
The two country-specific ETFs available for Russia are SPDR S&P Russia ETF(RBL) and Market Vectors Russia ETF(RSX). Since its launch in 2007, RSX has been highly successful. The fund has an asset base of $1.8B and the gross expense ratio is 0.80%. The energy sector accounts for about half of the fund portfolio with holdings in oil companies totaling 39.5%. The fund's share price is down about 10% YTD. Since its inception in March this year, the Russia ETF(RBL) from State Street has not been successful in attracting assets. The total net assets of the fund is just $4.36M. Similar to RSX, this fund is also heavily weighted in the energy sector.
Despite the better performance, investors must be cautious in putting their money in Russian stocks as they can be highly volatile. Among global indices, the Russian market fell heavily during the global credit crisis. As a commodity-based economy, the Russian market is highly dependent on the prices of commodities especially oil.
Some of the ETFs that offer exposure to Chinese stocks are: FTSE/Xinhua China 25 Index Fund (FXI), SPDR S&P China ETF (GXC) PowerShares Golden Dragon Halter USX China Portfolio (PGJ), Claymore/AlphaShares China Small Cap Index ETF (HAO), Claymore/AlphaShares China All-Cap ETF (YAO), Global X China Financials ETF (CHIX). The FTSE/Xinhua China 25 Index Fund  (FXI) from ishares is the largest China-specific ETF with an asset base of about $8.2B. The ETF tracks the 25 large-cap Chinese companies in the FTSE/Xinhua China 25 Index. Financials account for about 48% of the fund's portfolio.