The chart below shows the year-to-date performance of US-listed foreign bank stocks:
Click to Enlarge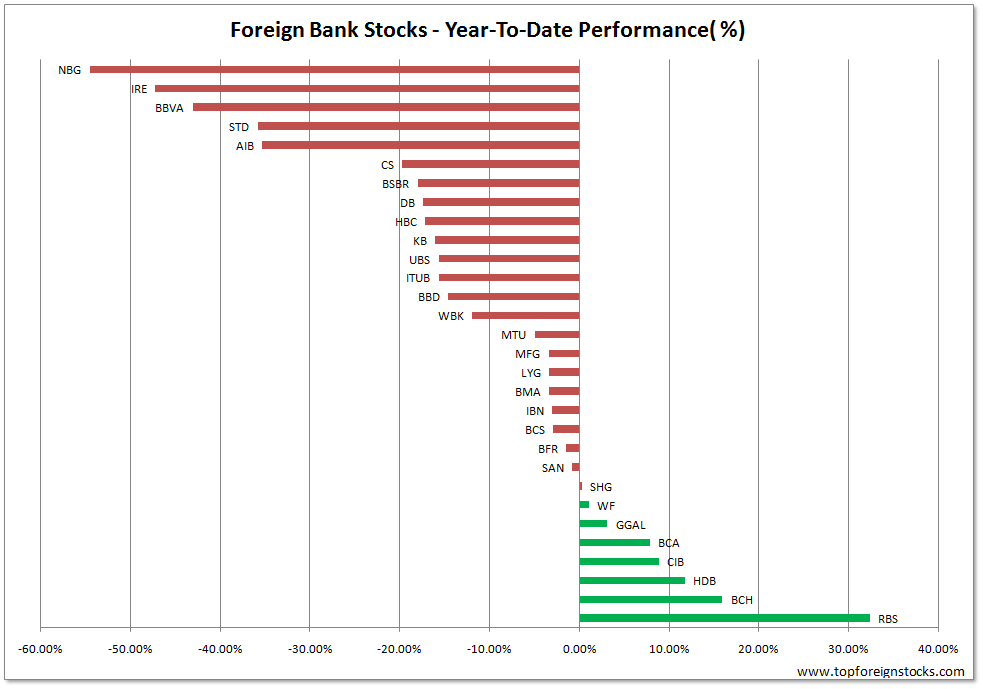 Notes:
1. Canadian banks are excluded in the chart
2. Data shown is as of June 11, 2010
Royal Bank of Scotland(RBS) is the best performing ADR with a return of about 33%. However it must be noted that RBS did a reverse stock split in the ratio of 20:1 in late 2008. The ADR price after the split came to around $20. Despite the rally last year, the current price of the stock is $12.45. Chilean banks Banco de Chile(BCH) and CorpBanca(CIB) have dividend yields of 6.37% and 7.92% respectively.
The worst performing banks are from Greece, Spain and Ireland. Allied Irish Banks (AIB), Bank of Ireland (IRE) and National Bank of Greece (NBG) trade under $ 5 per share. Beaten down Spanish banks Banco Santander (STD) and Banco Bilbao Vizcaya Argentaria (BBVA) may be long-term picks at current levels. Last month, the Spanish government approved a 15 billion euro package of austerity measures which includes lowering civil servants pay, freezing pensions, etc.
Yesterday The Wall Street Journal reported: "The long-awaited consolidation of dozens of Spain's troubled regional banks picked up speed as two of the larger players said they were in talks on a deal with several other banks that would form the nation's third-biggest financial institution.
Caja Madrid said Thursday it was negotiating with Bancaja, based in Valencia, plus five other savings banks as talks among Spain's 45 cajas gained momentum. So far, 35 of these banks, which have been hit hard by the real-estate downturn, have said they are in merger talks."
Consolidation in the Spanish banking industry bodes well for the future.In addition, banking giants Banco Santander and  BBVA have large exposure to Latin American markets.