The European Central Bank warned yesterday that euro-zone banks faced an additional $239 billion in write-downs this year and next due to the economic outlook that is "clouded by uncertainty."
From the Journal's article titled ECB Warns Write-Downs Could Reach $239 Billion: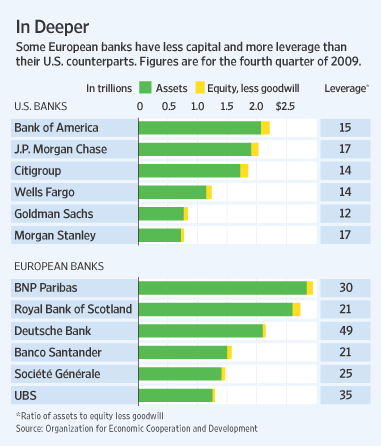 "The U.S. and U.K. moved aggressively in 2008 and 2009 to replenish their banks' capital buffers, sometimes with taxpayer funds.
Most of Europe didn't follow suit, because their banking systems were largely spared the carnage of their Anglo-American counterparts. But as a result, most European banks today have thinner capital cushions and heavier debt loads than their U.S. and U.K. rivals, leaving them vulnerable to an economic slowdown.
"Some European banks have less capital and more leverage than their U.S. counterparts and…the crisis in Europe seems to have lagged behind that in the U.S. in both the writing off of losses and in the speed of raising more capital," said Angel Gurria, secretary-general of the Organization for Economic Cooperation and Development, in a speech in May.
OECD figures show that a selection of major U.S. banks are operating with leverage ratios—the ratio of assets to common equity—of between 12 and 17. By comparison, the same ratio for a group of major European banks ranged from 21 to 49, according to the OECD."
It is interesting to note that the Spanish banking giant Banco Santander (STD) has a lower leverage ratio than France's BNP Paribas(OTC: BNPQY) and Societe Generale(OTC: SCGLY), Germany's Deutsche Bank (DB) and Switzerland's UBS AG (UBS). Banco Santander was recommended recently by David G.Herroof Harris Associates, named international fund manager of the decade by Morningstar. STD closed at $.983 today putting it very close to the 52-week low of $9.17.