Chile and Brazil are two of the hottest destinations for foreign investors in Latin America. Though Chile has had tremendous economic growth over the last 20 years, Brazil beats Chile in terms of attracting foreign capital. Chile's economy growth has slowed in recent years.
The chart below shows the performance of Chile Vs. Brazil over the last 10 years: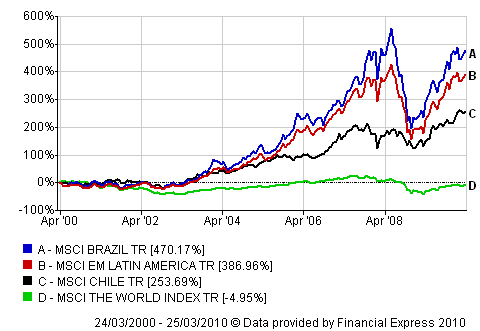 Source: Trustnet
In the last 10 years, the MSCI Brazil index has grown by 470% while the MSCI Chile index has increased by only 270%. Both the countries performed very well when compared to the MSCI World index which fell by about 5% during the same period.
Despite the strong performance of the Brazilian market, some investors prefer Chile over Brazil. In 2008, during the global financial crisis the MSCI Brazil index crashed over 60% whereas the MSCI Chile index fell only 20%. In addition, the annualized volatility rates for the past 10 years for Chile and Brazil are 16.3% and 25.4% respectively.
However it must be noted that unlike Brazil, Chile is heavily dependent on commodity exports particularly copper. The Brazilian economy is much more diversified compared to the Chilean economy. With a larger population and rising income levels among the middle class, Brazil offers a wide range of opportunities for investors. But since a huge amount of foreign investment dollars is flowing into the country, Brazil is prone to higher volatility. Overall as emerging economies both Brazil and Chile have strong potential for growth but they must be evaluated based on the economic factors unique to each of them.
The iShares MSCI Brazil ETF (EWZ) offers exposure to the Brazilian market. The fund has an asset base of $10.4B and 76 holdings in the portfolio. Investors can access Chilean equities via the iShares MSCI Chile Investable Market ETF (ECH) . This ETF has an asset base of $365.0M and 32 holdings in the portfolio.The difference in net assets between the two ETFs is huge since more investors choose Brazil over Chile.