Despite the astonishing run up from this year's March lows, some investors are searching for reasons to invest in bank stocks. There are many reasons to avoid to them but there are also some who believe that some banks are worth looking into.In this post let me list 9 U.S. banks in two sets that seem attractive relative to hundreds of other banks.
But before getting into the list, we must remind ourselves that the easy money in bank stocks may already be gone. For example, in Is the bank stock rally over? Peter Lee of Euromoney said:
"It is possible that the cosy narrative of crisis giving way to healing and recovery in the global banking industry might not progress quite so smoothly. Credit costs are rising and the worst might still be in front of banks, not behind them.
In the six months following their lows in early March, US financial stocks rallied by 135% to early October while the overall stock market rose 51%. In Europe, financial stocks put on 121%, compared with 54% for the overall market, and in the UK they rose 139%, compared with 45% for the market as a whole.
Forward price-earnings ratios in the broad US and European stock markets are now above historical averages, and for financial stocks in particular even above their pre-crisis levels.
Banks aren't yet saying that the peak of credit woes has passed or is even in sight. Investors, however, don't seem to care. "
The first set of banks comes from the Journal's article on November 2nd titled Investing in Banks? Check Loss Buffers.
According to this piece one metric that investors must consider when selecting bank stocks is the bad-loan reserve also called as provisions. "If a bank has a strong reserve against credit losses today, its earnings are likely to recover much more quickly than at less-girded peers."
The six banks in this article listed are: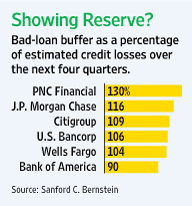 Source: The Wall Street Journal
According Bernstein's research PNC Financial (PNC) has the highest bad-loan buffer at 130%. Citigroup's(C) buffer of 109% is equal to the charge-off rate over the next 12 months. The bank with lowest buffer is Bank of America(BAC) at 90%.
The following list of regional banks increased their branches last year during the global turmoil. BusinessWeek says that this may give them an advantage as the industry recovers. For example, last year PNC of Pittsburgh gobbled up National City of Cleveland gaining hundreds of branches in Ohio and other states.

Source: BusinessWeek
U.S. Bank (USB) continues to grow by acquisitions and is a strong performer among the regional banks. South-based BB&T (BBT) and Regions Financial (RF) also have strong franchises and offer high dividend yields now.