With two months to go in this year, which of the five top Canadian bank stocks are leading?.
Based on 2008 earnings, Royal Bank of Canada(RY) was one of the two Canadian banks in the 25 most profitable banks of the world.
Royal Bank is the most profitable bank over the long-term as well. Royal Bank(RY) stock has performed consistently over the past years and currently the stock has a 3.79% dividend yield. RY has more than doubled from its March lows.
1-Year Performance of Top Five Canadian Bank stocks: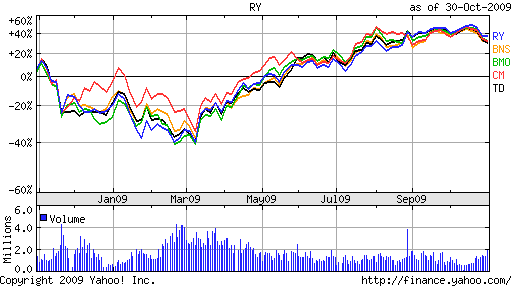 All the five Canadian banks have run up in a synchronized fashion over the past year.However as expected, the Royal Bank (RY) is the best performer.