Some investors consider defense stocks to be good investments during any market condition. But are defense stocks really recession proof?. An recent article titled A nations that merely wants peace in the New York Times says that "Despite a recession that knocked down global arms sales last year, the United States expanded its role as the world's leading weapons supplier . . . The United States signed weapons agreements valued at $37.8 billion in 2008, or 68.4 percent of all business in the global arms bazaar, up significantly from American sales of $25.4 billion the year before.
Italy was a distant second, with $3.7 billion in worldwide weapons sales in 2008, while Russia was third with $3.5 billion in arms sales last year — down considerably from the $10.8 billion in weapons deals signed by Moscow in 2007."
The total value of global weapons trade in 2008 was $55.2 B. Out of this, sales to developing countries accounted $42.2 B. The US was the top supplier to developing nations with sales of $29.6B or 70% of all deals last year.
Similar to other goods clearly developing countries are the major consumers for defense items as well. Many of these countries spend huge amount of funds on acquiring foreign military technologies to maintain national security. The top three arms buyers in the developing world last year were: United Arab Emirates, Saudi Arabia and Morocco. Next to US, Russia and France were the major exporters of arms to the developing world in 2008.
Charts:
Major Arms Suppliers to Developing countries in 2008

Arms Transfer Agreements Worldwide by supplier percentage of value


Source: Conventional Arms Transfers to Developing Nations, 2001-2008
US companies dominate global arms trade. The US accounted for 42.6% of all arms agreements between 2005-2008. The second ranked Russia's sales was less than half of the US share.
The Top 10 U.S. Defense Contractors based on revenue as of 2008 are as follows:
1. Lockheed Martin (LMT)
2. Boeing (BA)
3. KBR Inc (KBR)
4. Northrop Grumman (NOC)
5. General Dynamics (GD)
6. Raytheon (RTN)
7. SAIC (SAI)
8. L-3 Communications (LVLT)
9. EDS Corporation
10. Fluor Corporation (FLR)
Source: WashingtonTechnology.com
Half of the above companies are engaged in the design, manufacture, sale and services of large military equipments such as plans, missiles, ships, etc. Lockheed Martin (LMT), Boeing (BA), General Dynamics (GD), Northrop Grumman (NOC) and Raytheon (RTN) fall in this category.
In addition to military items, Boeing (BA) makes commercial jetliners and space flight systems.Total revenue last year was $61B and the annual earnings growth is 34%. Currently the stock pays a 3.27% dividend.
The world's defense contractor Lockheed Martin (LMT) is involved in the manufacture of advanced technology products including ballistic missile defense systems and nuclear weapon. It also makes the famous F-16 fighter jets, the Hellfire missile, the C-130 transport plane, etc. The average annual earnings growth is 27%.
Los Angeles, CA-based Northrop Grumman (NOC) is the maker of the B-2 bomber, the F-14 fighter, Global Hawk unmanned aircraft, Airborne Warning and Control Systems (AWACS) and other systems.
Lexington, MA-based Raytheon (RTN) makes the famous Tomahawk cruise missile, the 5,000-pound "bunker buster" bomb GBU- 28, etc. The average earnings growth is 25% and the profit margin is about 8%.
General Dynamics(GD) manufactures the famous M1 Series Abrams Main Battle Tanks. In the civilian space, it owns Gulfstream Aerospace unit and the shipbuilding and repair unit National Steel and Shipbuilding.
KBR Inc (KBR), SAIC (SAI), L-3 Communications (LVLT), EDS Corporation
and Fluor Corporation (FLR) provide a variety of services to the military and civil sectors. These services include construction, engineering, technical, software among others. Though these companies are not as large as the five products makers above, they still win huge contracts from the military and civilian agencies alike.
The chart below shows the 5-year performance of the top five large defense product makers: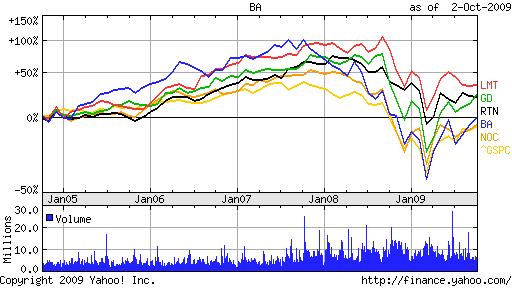 Lockheed Martin(LMT) leads the group in the 5-year stock performance. Despite being one of the world's largest makers of commercial planes Boeing stock has lagged in performance relative to others.