Investors fled from Irish bank stocks during the credit crisis last year. The real estate bubble collapse in Ireland and the overall slump of the Irish economy added more losses for Irish banks. The third largest bank in Ireland, Anglo Irish Bank was nationalized back in January this year. Ireland saved the other two large banks – Bank of Ireland (IRE) and Allied Irish Banks, plc (AIB). 
An article in ft.com/alphaville yesterday suggests that Ireland, Spain and Denmark may get into trouble because of their banks' high loans to deposits ratio and loans to GDP ratio.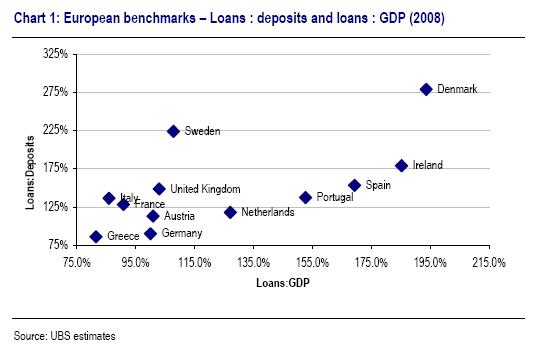 In Something is rotten in the state of Denmark. And Ireland. And Spain, Tracy Alloway  quotes research by UBS analysts John-Paul Crutchley and Alastair Ryan on the European banking industry.
From the article:
"That is loans to deposits (y-axis) and loans to GDP (x-axis) by European country. A higher loan to deposit ratio implies the nation's banking system is relatively over-lent — it has made available more credit to the private sector than can be sustained by the deposit base within the country. A high loan to GDP ratio suggests the economy is increasingly over-borrowed, or the private sector has borrowed excessively in relation to the country's economic ability to sustain the debt. In short, you don't really want to be in that upper right hand quadrant.
Here's what the analysts say:
Countries and households can be over-borrowed and banking systems can be overlent. Both of these are found in the economies with the highest private-sector debt to GDP levels: Spain, Ireland and Denmark. These are also the economies we expect to deliver the weakest GDP out-turn over the next year. Ireland is already a significant creditor to the ECB and debt maturities mean Spain may follow suit, particularly if "round-tripping" to help fund government deficits continues."
Spanish banks Banco Santander (STD) and BBVA (BBV) have significant overseas operations which must help with some of the losses from the domestic market. Danske Bank of Denmark trades on the OTC markets with ticker DNSKY. Danske reported losses for the second quarter last month and noted " write-offs from bad loans could hamper profitability for the rest of the year."