Yesterday's New York Times had a piece titled "Europe Lags as U.S. Economy Shows Signs of Recovery". This article stated that while the European economy was still gloomy and will remain in recession well till 2010 primarily due to differences in policy difference between the Europeans and Americans in solving the current economic crisis.
The article further added:
"Some private economists are even predicting that the American economy will resume growth in the fourth quarter, while Europe's economy is expected to remain in recession well into 2010, after contracting an estimated 4.2 percent this year compared with an expected 2.8 percent decline in the United States.
"The shock originated in the U.S., but Europe is paying a higher price," said Jean Pisani-Ferry, a former top financial adviser to the French government who is now director of Bruegel, a research center in Brussels."
While the two economies may take different paths, I wanted to see how the markets in Europe and US are reacting to the various stimulus programs implemented in the US and Europe. I used the Dow Jones Index as the sample index for US and the DJ Euro Stoxx 50 Index for Europe. The DJ Stoxx 50 was not used since it includes the UK but I wanted to exclude UK as it is facing similar problems like the US does. Like the Dow Jones index the DJ Euro Stoxx 50 Index is comprised of fifty of the largest companies in continental Europe.
DJ Euro Stoxx 50 Vs. Dow Jones Index 5-Year Performance: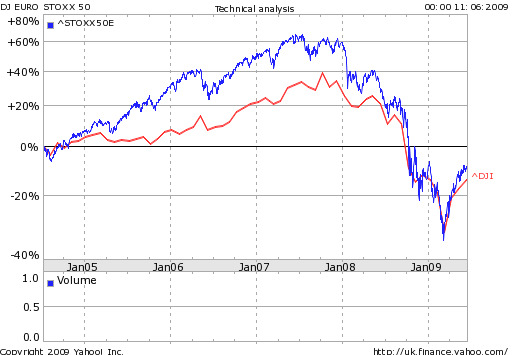 The above chart shows that the European stocks ran much higher than the US stocks.And after March lows, the European stocks have rebounded and are leading US stocks.
DJ Euro Stoxx 50 Vs. Dow Jones Index 6-Months Performance: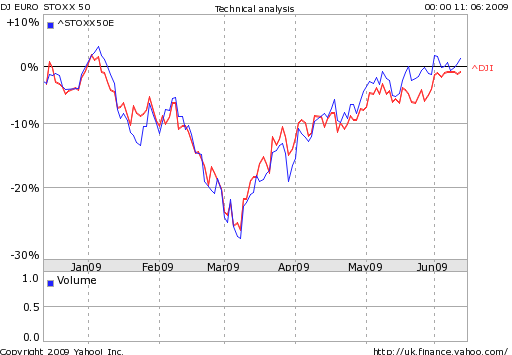 :
On a 6-months basis, the DJ Euro Stoxx is slightly ahead of the Dow Jones Industrials as well.Overall these two indices closely track each other.We shall recheck this comparison at the end of the year to see how they performed.