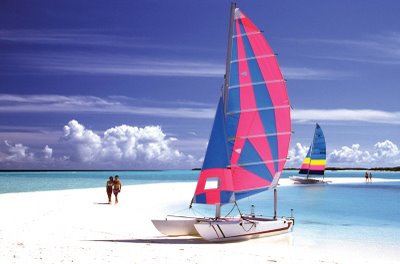 Maldives Island Beach
Last week was one of the worst weeks for many of the world's stock market indices. The UK's FTSE 100 was down a massive 26% from the previous week. France's CAC and Germany's DAX also plunged over 20% for the week. The Nikkei Index of Japan lost 24%.
Here in the US, the Dow plummeted 18% for the week, the worst in its history.The S&P 500 Index also declined 18% for the week.Financial stocks were some of the worst performers last week. In the US, the S&P Financials Index is down a horrendous 49.70% year-to-date.
Given the above events, I wanted to check which foreign bank stocks were the best and worst performing year-to-date. Back in September, I wrote an article titled "By How Much Have Foreign Bank Stocks Fallen?" which showed how much foreign bank stocks had fallen after the recent high reached in October,2007. At that time, HBOS plc (HBOOY) of UK was the loser with a -71.76% return and the two stocks that were down less than 10% were First Bancorp (FBP) of Puerto Rico and Hang Seng Bank (HSNGY) of Hong Kong.
Now lets take a look at the five best and worst performing banks year-to-date.This list does not take into account dividends paid during this time period.
The Five Best Foreign Bank Stocks(as of Oct 10,2008):
[TABLE=108]
The Five Worst Foreign Bank Stocks (as of Oct 10,2008):
[TABLE=109]
The data in the above list was developed based on the NYSE traded stocks only.If OTC stocks were included, HBOOY is the worst stock since it is down 87.3% so far this year.But it should be noted that HBOOY is being acquired by Llyods Bank (LYG). So HBOOY will trade after the merger is over.
Analysis:
1. It is interesting to see HBC of UK being the best stock in the above list.HBC might be the best British bank to add to one's portfolio at these levels.
2. Japanese banks are holding up well compared to their European and American peers.
3. RBS is the worst performer in the list. Last week alone the stock collapsed a whopping 61% in London trading.
4. ICICI Bank (IBN), the largest private sector bank in India is fighting to restore investor confidence there. Last week it fell 20% in trading in India. To allay depositor fears, the bank sent text messages to customers' cellphones today saying "the bank is well capitalised with good liquidity. Please do not listen to baseless rumours". So it is not surpisring to see IBN ADR down nearly 78%.
Disclosure: Long LYG, RBS, BMA